NEWS
7/9/23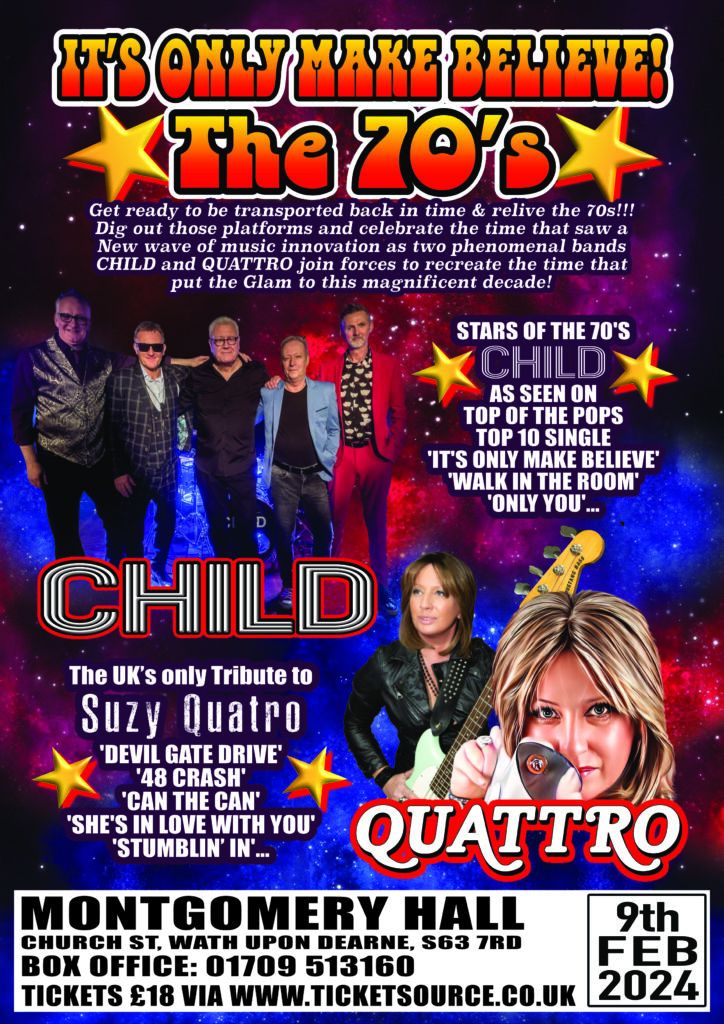 Quattro are very pleased to announce that they will be joining forces with 70's chart topping band 'CHILD'

A new show for 2024 'IT'S ONLY MAKE BELIEVE! THE 70's' is brought to by producers Nancy Ann Lee and Graham Bilbrough

Get ready to be transported back in time & relive the 70s!!! Dig out those platforms and celebrate the time that saw a New Wave of music innovation as two phenomenal bands CHILD and QUATTRO join forces to recreate the time that put the Glam to this magnificent decade!

QUATTRO! The UK's only tribute to the one & only Suzy Quatro & the 70s. Featuring all the hits including…
DEVIL GATE DRIVE, 48 CRASH, CAN THE CAN, SHE'S IN LOVE WITH YOU, STUMBLIN' IN, plus many more!
A renowned artist in her own right, a star of stage and screen, broadcasting, recording and touring musician/singer, actress and hit songwriter, Nancy Ann Lee. Nancy, along with her band of Quatronians, bring you the songs, drive and energy to take you back in time to the highlights of Suzy Quatro's career.

CHILD
Child are a British pop group that released numerous records including a top-10 single in 1978. Their biggest hit was a cover of the Conway Twitty song, "It's Only Make Believe", which was a top ten hit in 1978. Child were formed in the early-1970s
After touring and many television appearances, the group secured a record deal with Ariola Hansa. With this label the group achieved their first chart hit after appearing on Top of the Pops. The song was a cover of The Searchers' hit "When You Walk in the Room".
Following this up with another cover the group had a top 10 hit with "It's Only Make Believe", which earned them a silver disc from the BPI for sales in excess of 250,000. In 1979 they scored their third chart hit with another cover, "Only You (And You Alone)".
Their first album for Ariola Hansa (entitled The First Album) again earned them a BPI silver disc.
Child were voted the second most popular UK band amongst teenage girls in a 1978 poll conducted by the magazine Fab 208.
CHECK BACK SOON !!